[ad_1]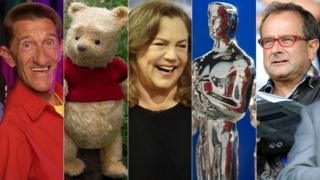 August is usually a quiet time for news, but that hasn't been the case in the world of entertainment and the arts.
Here are just a few of the stories we've been reporting on this week.
1. We said goodbye to Barry Chuckle
Last weekend we had the sad news that Barry Chuckle, the older half of comedy duo the Chuckle Brothers, had died at the age of 73.
Fans, friends and family members paid tribute to the entertainer, who starred in such TV shows as Chucklevision and Chuckle Time with his brother Paul.
Rapper Tinchy Stryder was among those to pay homage, remembering the comic with whom he recorded a charity single in 2014 as a "super cool, talented, humble legend."
Paul Chuckle described losing his brother as "the worst feeling ever" but vowed to carry on performing because "I know Barry would want me to."
2. Kathleen Turner got Hollywood guessing
Body Heat star Kathleen Turner was the talk of Hollywood after giving a candid interview about her career, the film industry and some of her former co-stars.
Burt Reynolds, Nicolas Cage and the cast of Friends were just a few of the people she had issues with – although she reserved much of her disdain for Donald Trump's "gross" handshake.
For many, though, the big question was who she was talking about when she accused an unnamed female star of "playing the same role for 20 years".
We came up with our own list of likely candidates.
3. Radio 4's Eddie Mair bowed out gracefully
The announcement that presenter Eddie Mair was to leave the BBC after more than 30 years made headlines last month.
Yet the 52-year-old managed to take his leave without any fanfare, quietly bowing out after Wednesday's edition of Radio 4's PM with "no fuss or faff".
Without mentioning it was his last show, the softly-spoken Scot ended his tenure by playing Willy Nelson's version of Bring Me Sunshine.
He won't be off the airwaves for long though – he's due to start presenting on LBC next month.
4. The Oscars announced a new category
The Academy of Motion Picture Arts and Sciences made a number of announcements this week aimed at making its annual Oscars telecast more accessible, more relevant – and shorter.
The most notable was its intention to introduce a new award recognising outstanding "achievement in popular film".
The declaration did not go down well in Hollywood, with actor Rob Lowe speaking for many when he suggested it showed "the film business [had] passed away".
Once we'd recovered from the news, we had a think about the kind of films that could be eligible for the prize.
5. Robert Redford gave up acting
At the grand age of 81, Robert Redford announced that his next film, The Old Man and the Gun, will be the last one in which he'll act.
"Never say never, but I pretty well concluded that this would be it for me in terms of acting," he told Entertainment Weekly.
The news prompted us to look back at some of the great performances he's given in such films as The Sting, All The President's Men and Out of Africa.
Our feature included his recent Netflix drama Our Souls At Night, a film whose title might have done with a rethink.
6. China 'snubbed' Winnie the Pooh
Winnie the Pooh. Winnie the Pooh. Tubby little cubby all stuffed with fluff, right?
Not in China, where AA Milne's honey-loving bear has become a potent symbol of political dissent against leader Xi Jinping.
It's been suggested the Chinese authorities' displeasure with mocking ursine memes is behind their decision to deny a release to Disney's new Winnie the Pooh film Christopher Robin.
Starring Ewan McGregor as a grown-up Christopher, the film opens in UK cinemas on Friday.
7. Matthew Perry had tummy trouble
In the week it was revealed that Friends is the most popular show on the UK's paid-for streaming services, we also learned that one of its stars recently underwent abdominal surgery.
A spokesperson for Matthew Perry said he was "grateful for the concern" following reports he had an operation to repair a gastrointestinal perforation.
In other Friends-related news, it was announced that David Schwimmer is to join the cast of Will and Grace for its upcoming 10th season.
Over on Channel 4, meanwhile, Hang Ups – a British version of Lisa Kudrow's improvised series Web Therapy – saw Stephen Mangan try his hand at online psychiatry.
8. Timmy Mallett lost his bike
Finally, a social media campaign sprung up aimed at reuniting TV personality Timmy Mallett with his missing bike.
The 62-year-old, pictured above with Prime Minister Theresa May, was "heartbroken" when the bicycle on which he recently completed a 2,500-mile charity ride across Europe was apparently stolen from a pub in Berkshire.
"The irony is so awful," he told the Press Association. "You can take it all over the world, and yet at home it was not safe at the local village."
Hundreds of Twitter users offered to help the star, who rode across three countries in two months in memory of his late brother Martin.
Follow us on Facebook, on Twitter @BBCNewsEnts, or on Instagram at bbcnewsents. If you have a story suggestion email [email protected]


[ad_2]

Source link Entertainment