[ad_1]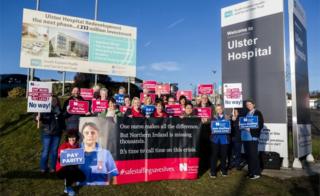 Further industrial action by healthcare workers is to continue on Wednesday.
Health workers are protesting at pay and staffing levels which they claim are "unsafe".
The union, Unison, that represents more than 6,500 registered nurses and 3,500 health care assistants, has called for "compromise and money on the table".
At the Ulster Hospital, routine afternoon outpatient appointments, with the exception of maternity and children's, have been cancelled.
In the Western Trust area, strike action by support services staff is expected to affect hospitals, day centres and residential homes.
Full details and advice on current health care services can be found on the Health and Social Care Board website.
Unison nurses started taking action short of strike from Monday.
Speaking on BBC NI's Good Morning Ulster on Wednesday, Anne Speed of Unison welcomed the decision by the health trusts' chief executives to speak out in a joint statement.
"I was glad to hear that they didn't blame workers," she said.
"They have pointed in the direction of those who have access to money and those who can influence those who have access to money. That direction needs to be continued and the chief executives need to continue calling for that."
Ms Speed said that, so far, those who can offer compromise do not have access to money.
She said the basis on which the Department of Health had looked for a resolution of the dispute was insufficient at this stage.
Ms Speed said Unison was not walking away from its responsibilities and was working to manage risk.
She said the planned complete withdrawal of labour by nurses on 18 December would be "very serious".
"When nurses remove themselves from routine nursing care it will be a very big wake-up call for everybody with anything to do with the health service, especially those in the leadership," she said.
On Tuesday, nurses from the Royal College of Nursing (RCN) took action short of strike by refusing to do any work not directly related to patient care.
'Powerless'
The UK government said that as health is a devolved matter, only a restored Stormont executive could take decisions on the health service.
But added that Northern Ireland Secretary Julian Smith is "very concerned about the situation in the health service".
In a statement, the Northern Ireland Office said that while Mr Smith had further discussions with the NI Civil Service on Tuesday, he "has no powers to direct them or take decisions on health matters".
"We cannot comment on the possible actions of a future government."
Two more days of industrial action, short of strike action, are to be held on 10 and 11 December.
Members of the RCN and trade unions Unite, Unison and NIPSA have voted to strike on 18 December.
[ad_2]

Source link Health