[ad_1]

It is all too easy to romanticise the past, particularly with food. In Britain, rationing created a postwar generation that was very well-nourished, but also utterly bored by the meals it ate … or endured. Similarly, for all the criticism levelled at processed foods ("Don't eat anything your great-grandmother wouldn't recognise as food," as the writer Michael Pollan famously advised), food has never been cheaper, nor easier to access and prepare. In 1957, as a proportion of their weekly income, UK households spent roughly double what they now spend on food – 33% of their money. There is a kind of liberation in the Pot Noodle.
Yet among many chefs and campaigning food writers, the sense persists that on a number of issues – particularly food waste, but also obesity, nutrition, cost, pleasure even – there is much to admire in how our grandparents ate. In an era of limited choice and tight budgets, they made a virtue of the necessity to cook with whatever fresh ingredients were available. "My grandparents didn't cook 'sustainably', but they did cook every day, one of life's best skills, and they didn't throw leftovers away. To that extent, they were thrifty," says Tom Hunt, the self-styled eco-chef and Guardian columnist.
To examine that idea, we asked a number of top chefs to choose a meal that encapsulates how their grandparents cooked and to explain how, in its frugal simplicity, it still influences them. Call it going back to the future.
Minestrone soup
"Originally from Bardi in Italy, my grandmother never wasted a thing in the kitchen. It was incredible. Any leftovers went into bowls covered with a saucer; she didn't believe in clingfilm. For her minestrone, she'd use bones from a roast to make stock and any old veg, dried beans and parmesan rinds would go in. These days, people look at sell-by dates and bin stuff when there's no need. I freeze anything I can re-use and then I'll invite the neighbours over for a freezer-party."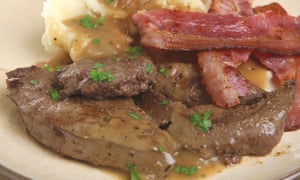 Robert Owen Brown, The Hinchliffe, Hebden Bridge
Liver and onions
"I'm 48. As a kid in Bury, offal was commonplace. I loved watching my gran make flash-fried liver with onion gravy and mashed potato. It's a 20-minute meal. Faggots, made of minced heart, liver and lung, were a school dinner favourite. I'd eat whatever was put on the table. If you didn't, there was nothing else. Today, I know friends who'll cook three different meals for three different kids. It's crazy."
Black chana daal
"I was six when I started helping my gran in the kitchen. It was just expected that us girls would cook. At weekends, we'd help out in the Sikh temple kitchens feeding the community and – using this big burner at my dad's in Chapeltown – we'd cook huge batch curries and daals. Daal is such a heart-warming dish: simple, cheap, beautiful. We'd give this food to friends or use it for family weddings. This was before people used caterers. We'd chop hundreds of onions, but there was no waste. Any spare vegetables or lemon and lime skins we'd pickle or make into chutney, and that's how I run my kitchen."
Comté cheese soufflé
"I grew up in the Franche-Comté, in a village between Burgundy and the Jura mountains. Money was tight, but my grandmother was an extraordinary cook who passed that knowledge on to my mum, who taught me to do a lot with very little. She always used seasonal vegetables from our garden or the forest, where we foraged for berries, mushrooms and wild asparagus. My mother had five children and used a lot of pulses and cheese – meat was a special treat. A simple, cheesy comté soufflé was a staple on our table. It encapsulates my region."
Lisa Goodwin, Allen, Northcote, Blackburn
Cottage pie
"My dad's mum had a roadside cafe in Ingleton called the Three Peaks and what struck me about Nana was that she never used recipes. It was all instinct. Both her and my mum used whatever they had in, cooking sustainably without being aware of it. My mum makes an amazing cottage pie using, as she says, 'everything from the top shelf'. It's the same base, but she adds whatever she has in the fridge. With one-pots and cottage pies you can play around, substituting ingredients so nothing is wasted."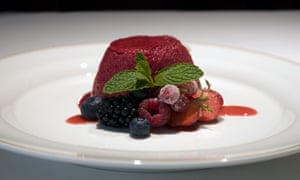 Summer pudding
"I fondly remember picking fruit with my gran, Minnie, in her garden in Sheffield: wild strawberries, jewel-like currants, raspberries, hedgerow blackberries. She'd make jam or use the leftovers for cordial – my gran was naturally thrifty – but the most fragrant fruit would be reserved for summer pudding. Put the fruit in a pan with some sugar and the odd tart gooseberry and it yields this beautiful glossy purple juice. Soak up the juice with some slightly stale bread and layer that up with fruit in a pudding basin. Serve with double cream."
Martin Morales, Ceviche and Andina, London
Chicken and rice
"My gran, Mamita Naty, lived in a small Andean village, 18 hours by bus from Lima. She was a farmer and a cook whose house doubled as a restaurant. In the Andes, the food tradition is farm-to-table, nose-to-tail, organic, zero waste. It's not a fad. It's been that way for hundreds of years and, in my restaurants, we're very resourceful. Take the Peruvian classic arroz con pollo, which is like coriander chicken paella. We get the whole chicken and use the offal in a separate devilled, stir-fried dish, we use the meat for the main and then we cook the carcass with leftover pea pods, herb stems, pepper and onion ends to make an exquisite broth. In a way, that chicken and rice turns into three dishes."
Frozen grapes
"In the 90s, we'd visit my elderly uncle and auntie Nishimura in Kyoto each summer. There were no snacks or packaged drinks in the house and we always took packed lunches on day trips. It's just what people of their generation did. An evening meal would be broth, rice, a small piece of fish or cold octopus, home-fermented tsukemono pickles and maybe cooked vegetables. Giant frozen grapes were a big treat for dessert. Any leftovers would go into uncle's lunch next day, made into onigiri rice balls or a bento. I take a similar approach at the Black Bull. We buy in whole animals and use everything."
Jesse Dunford Wood, Parlour, London
Chicken stew
"The second world war and rationing killed food culture for my grandparents' generation. But they could cook. There was less processed, convenience food and you had to produce meals from real ingredients. My grandmother wasn't a great cook, but she used to make a thickened white chicken stew – I don't know if she knew the fancy French name for it, but like a blanquette de poulet – and I still totally love simple, comforting one-pot stews."
Bacon ribs and cabbage
"Growing up, my gran looked after me a lot. Wednesday was ribs and cabbage night with great piles of sliced white Kwik Save bread and Stork margarine. I'd demolish that now but then, the smell of pressure-cooker cabbage sent shivers down my spine. If I didn't eat, that meal would be there for me next day. My gran would say: 'There's Biafrans starving. Eat your bloody tea.'. Her hatred of waste stayed with me and that 'you get what you're given' thing is what I still do [by serving a no-choice menu]. It's aimed at adventurous eaters."
Fergus Henderson, St John, London
Tripe and onions
"I don't really have culinary memories of my granny, who died when I was young, but my mum, who was born in Bolton, used to cook us tripe and onions in milk with mashed potato. It's a wonderfully calming dish that uplifts the spirits. Bleached tripe was widely available in London in the 60s and 70s, but we use brown, unbleached tripe in the restaurant. We pickle it or slow-braise it. A few boys still come in and ask: 'What's the scariest thing on the menu?', which is all wrong. Offal is not scary. It's delicious."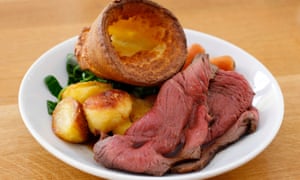 Sunday roast
"I don't want to use the word 'foraging', but in the early 90s, in my grandparents' village outside York, it was normal to walk the dogs whilst gathering mushrooms for Sunday lunch or brambles for a pie. We ate a lot of game, too – whatever was at hand in that rural area. As many people in Yorkshire do, we'd eat our Yorkshire pudding and gravy first, as a starter. Historically, it was a 'filler' and, by eating that way, people could reduce the cost of a three-course meal. That upbringing made me appreciate you can create restaurant dishes and extract deliciousness from humble ingredients. It doesn't have to be all fillet of beef and caviar."
[ad_2]

Source link Food/a>