[ad_1]

By Shen Shellenberger, JerseyArts.com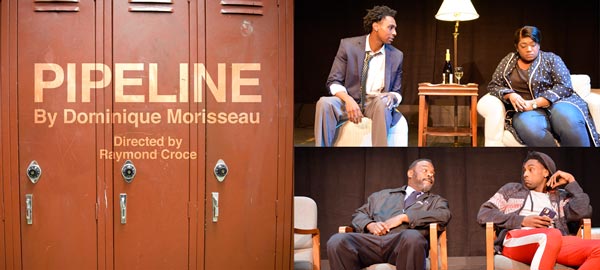 Like arts and cultural organizations everywhere, the South Camden Theatre Company faced countless challenges during these last 12+ months. Their 2020 season had been planned as a dual celebration – to mark the 15th anniversary of the SCTC's beginnings at Sacred Heart Church and the 10th anniversary of their move to The Waterfront South Theatre at 400 Jasper Street. But after staging one show, Abigail/1702: A Twice Told Tale, in February of 2020, the decision was made to postpone the rest of the season.
When I talked with Artistic Director Ray Croce recently, I asked him how the theatre staff handled the unexpected shut-down brought on by the pandemic. 
"Do you want to know my reaction before or after I cried like a baby?" Croce said with a laugh.
But seriously, folks, the reality hit hard.
"It was difficult," he said. 
But rather than put an indeterminate hold on things, SCTC took a proactive approach and created or chose productions that could make a smooth shift to the small screen.
Virtual Variety Slam, a video performance directed by Croce and filmed by SCTC President Robert Bingaman, was released in August, and features works on the Black Lives Matter theme by six young poets of color. As Croce said in the introduction, "Theatre has many purposes besides entertainment. It holds a mirror up to society…and gives voice to those that are too often mute." 
The Mountaintop, SCTC's second made-for-virtual-viewing production, is a dramatized telling of an encounter between a motel maid and Martin Luther King, Jr. on the night before he was assassinated. The play was staged at the theatre, with just the two actors and the bed on the set serving as a social distancing guidepost, but no audience. Then the video, which was filmed by Octopus Video Productions, was made available for streaming. 
Croce says that The Mountaintop and Pipeline checked several boxes – both practically and artistically.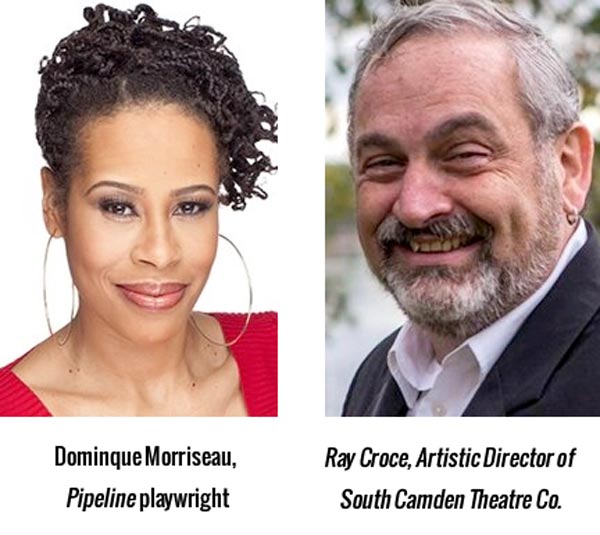 When he became artistic director in 2016, Croce looked back at the long list of previous productions and noticed two things. First was that none of the plays had featured Asian or Hispanic main characters; the other was that SCTC had never presented a play written by a woman. To address this, SCTC devoted the 2018 season to pieces by female playwrights. 
Another consideration for Croce has been to choose plays that are relatable to members of the community where the theatre is located. "Part of our mission," he said, "is to bring affordable art to people of Camden."
So, on the second and third weekends in April, Dominque Morriseau's complex and compelling play, Pipeline, directed by Croce, will officially open the 2021 season.
And, with the unpredictable nature of life these days, all productions this season will be presented virtually. 
Rehearsals have been held on Zoom and every possible precaution is being taken during in-person filming at the theatre to keep the actors and crew safe.
"We made arrangements to have everyone tested before the shoot date, we take temperatures at the door," Croce said, "and, even on film days, we keep a minimal number of actors on stage at any time."
Although this is far from ideal, Croce noted that Pipeline lends itself well to the format.
"Many of the scenes are modular," he said. "It's almost as though each is like a play unto itself."
The play's title refers to what the SCTC website describes as "two kinds of institutionalized segregation." In the first instance, students deemed exceptional are taken out of a regular classroom setting and provided with higher-quality educational experiences. In the other case – the school-to-prison syndrome – the opposite is true.
In Pipeline, the second option seems to be the fate for Omari, whose recently divorced parents decide to move him from public school to a private prep school to increase his opportunities for a better future. However, the move sets in motion conflicts on every level.
Omari's mother Nya, an inner-city high school teacher, struggles to find balance between her job, students, and co-workers; the suddenly strained relationship with her son; and the challenges of navigating life as a single parent and a divorced woman. Omari, because of his parents' split and the change in schools, feels isolated and disconnected from his friends and family. And Xavier, Omari's father, is caught between anguish over the end of his marriage and concern for his son.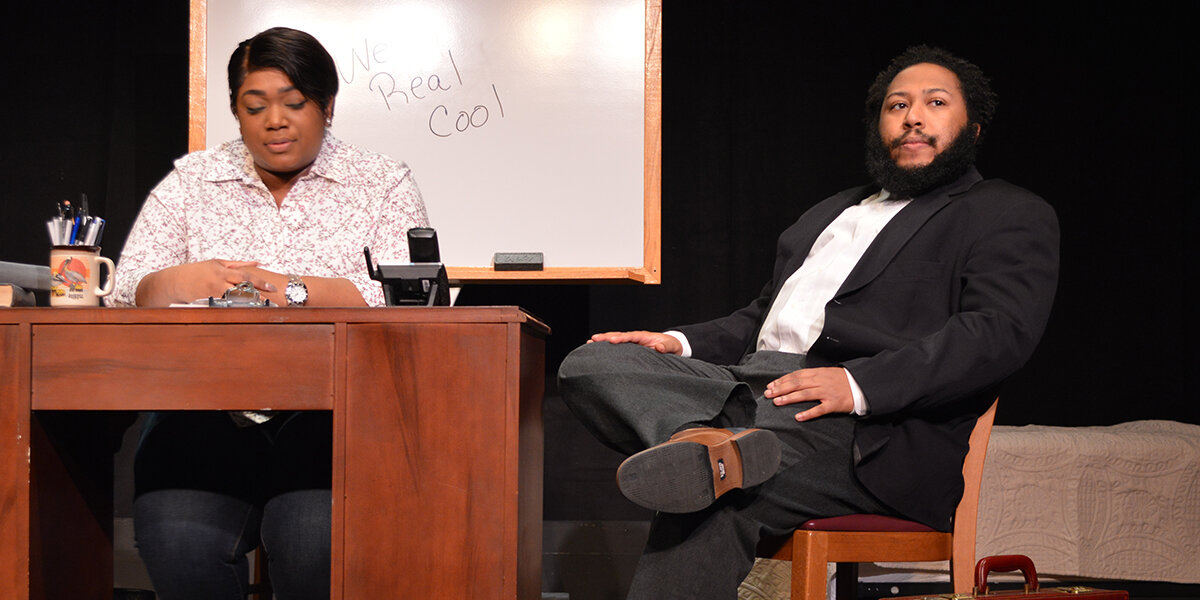 Sasha Allen, who plays Nya, is a teacher and drew on personal experience to round out that aspect of her character.
"I teach acting," she said, "and, in my head, I could 'hear' the students' voices. This really helped me verify the accuracy of my portrayal."
Playing a mother, however, had Allen digging deeper.
"I looked at the character as a person, not necessarily a parent, and imagined all the different interactions she might have." 
As for the mother-son dynamic, Allen said she has the benefit of knowing Brian Neal personally.
"Brian is my student, so I do sometimes talk like a mother to him in regular conversations," she said. "I just took it up a notch as an actor."
What really grabbed Allen about the story, though, is how it seemed so real.
"When I read the play, I thought, 'Wow! This is really true in the words of a Black woman.' I understand this real fear for Black men, which is at the heart of the story," she said. "So, I could put myself in the characters' shoes and imagine their suffering."
Neal also said that aspects of his character drew parallels with his life. 
"When I read it, my first thought was that it was about me," he said. "My friends told me it was like I was hardly acting."
Neal did attend a private school, where, as one of just a handful of Black students, he felt outnumbered and different.
"I thought no one understood the way I dressed or talked," he said.  
And there were some rough stretches with his family. "I was banging heads with both of my parents." 
But Neal found ways to expand his portrayal beyond that of a stereotypical angry young Black man by trying to discover more about his character. 
"I got deeper in and learned the reasons behind Omari's displaced anger," he said. "I knew there was more to him and I used that perspective to bring the other side – a level of understanding." 
After I talked with Allen and Neal, it was clear that both have put a tremendous amount of themselves into this play. But what message did they hope the audience would take away from the play, and what had each learned from the experience?
"What I learned was to be more open, to just observe, and to learn not to have the power," Allen said.
As for the audience, she said, "I hope people learn, instead of judging, to be more compassionate."
For Neal, the lesson was plain and simple: "I learned that there are so many languages of love," he said. "In the play, my father tries to fix things with money; my mother wants to know how she can help."
"Every human expresses love differently." 
And the audience takeaway? "Everyone has a story. No matter what is going on in life, something has happened between then and now."
 "It's simple," Neal said. "Like my grandmother used to say, 'treat everyone with kindness.'"
---
South Camden Theatre Company's production of Pipeline by Dominique Morisseau, directed by Ray Croce, is available to stream April 9, 10, 11, 16, 17 & 18. To buy tickets or for more information, visit www.southcamdentheatre.org.
originally published: 04/07/2021
---
About the author: Shen's been a Jersey girl for most of her life, other than living for a three-year stretch in Portland, Oregon, and six magical months in Tokyo. Shen loves the arts in all of its various forms – from the beauty of a perfectly-placed base hit to the raw energy of rock 'n' roll – and has successfully passed on this appreciation to her three grown children. Shen's most recent jobs include WXPN (1993-2001) and the Philadelphia Museum of Art (2003-present). Shen also has been a working freelancer for 25 years, and operated her own frame shop in Mt. Holly in the late-70s.
Content provided by
Discover Jersey Arts
, a project of the ArtPride New Jersey Foundation and New Jersey State Council on the Arts.
---
---
---
---
---


[ad_2]

Source link