[ad_1]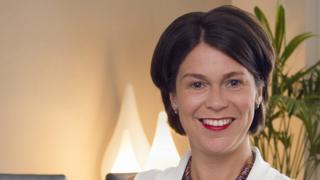 The BBC's weekly The Boss series profiles a different business leader from around the world. This week we speak to Jen Atkinson, chairwoman and co-owner of holiday group Inspiring Travel Company (ITC).
When Jen Atkinson saw the travel business she was working for in 2009 flounder in a "perfect storm", she decided she would put herself forward to try to save the company.
Ms Atkinson was 34 at the time, leading the marketing team at UK firm ITC.
As a result of the global financial crisis there had been a big downturn in the number of people going on holiday, and how much they spent on them.
What made matters worse for ITC was that it was an old-fashioned travel agency, which didn't accept any online bookings. Customers had to to phone up and speak to a member of staff.
And with cash-strapped consumers either not going on holiday at all or increasingly buying their holidays online, hoping to get the lowest possible price, ITC was haemorrhaging losses.
The company's founder and boss Drew Foster had successfully grown the business since 1974, but in 2009 he was seriously ill, and ITC's future was in doubt.
"It was a perfect storm of disasters for the company," says Ms Atkinson, now 43. "I was thinking, 'What is going to happen to us? Are we going to close? Are we going to be sold?'
"I remember vividly that I had a plan, I had a vision for saving the firm, so I scribbled it down on two sheets of A4 paper and went to see Drew.
"He went, 'Great, crack on,' and that is how I came to run ITC."
Based in Chester, in the north of England, ITC had always attracted a certain amount of wealthy customers. Ms Atkinson's plan was to go after more of them, by offering customers holidays that are not just luxurious, but as bespoke as possible.
"I thought that if we give our top customers something that they couldn't order themselves, our business would have a fighting chance of being successful," she says.
"It is about providing the best possible insight. So when discussing a holiday destination, our staff can say things like, 'Why don't you stay in this room?' or 'This room is great, because it is on the ground floor and goes straight onto the beach.'
"You cannot get that service or insight on the internet, where there is so much contradictory advice."
After making the difficult decision to reduce ITC's workforce from 130 to 80 people, Ms Atkinson's turnaround plan slowly started to work. Sadly Mr Foster did not get to see her efforts come to fruition as he died in October 2009.
Today ITC enjoys an annual turnover of £95m. More importantly, Ms Atkinson has returned the business to profitability, and the number of employees is now 210.
The company's customers include popstars, TV presenters, footballers, business leaders, and other holidaymakers with more than a few quid.
Born and brought up in Leeds, Ms Atkinson's childhood holidays were a world away from those enjoyed by ITC's customers – her family would rent a caravan.
After attending her local comprehensive school, she went to Lancaster University where she graduated in law and marketing.
An early career in marketing then followed, and she first joined ITC in 2002. After becoming chief executive in 2009, she and a business partner bought the company in 2013. Then last year she sold a chunk to a private equity group.
Married with two young children, Ms Atkinson says she has never faced any problems in business because she was a woman, but admits that juggling leading a company while being a new mum can be difficult.
"I have honestly never faced any glass ceilings, but if I had, I would have smashed them," she says. "What is hard to manage, though, is your innate maternal feelings when you have children. Trying to manage the mum guilt is the hardest thing… but I have a great husband."
Among ITC's workforce, 80% are female, and until recently all the board members were also women.
More The Boss features, which every week profile a different business leader from around the world:
To make sure that employees know as much as possible about the holiday destinations and hotels that the company offers, each gets to go on two or three luxury long-haul trips a year. As a result, the company doesn't struggle to find would-be recruits.
Travel industry expert Mike Bugsgang, of Bugsgang & Associates, says there will always be a place for traditional travel agents that don't sell online, such as ITC, Scott Dunn, and Cox & Kings.
"There are still huge numbers of consumers in every section of the market who, when spending a large proportion of their annual budget, prefer to have in-depth guidance from an expert on their holiday options," he says.
"The Inspiring Travel Company is a prime example of this type of company, which can provide a really personalised and tailored approach to holiday booking."
After nine years as chief executive, earlier this year Ms Atkinson moved across into the chairman role. She says this is so that she can concentrate on more strategic, long-term matters, while the new chief executive looks after the day-to-day running of the business.
"People said that the internet would make travel companies like ITC extinct, but we are still here," she says.
"We don't do online sales, and never will, because by actually speaking to our customers we can offer them a better service."
[ad_2]

Source link Travel