[ad_1]

click to enlarge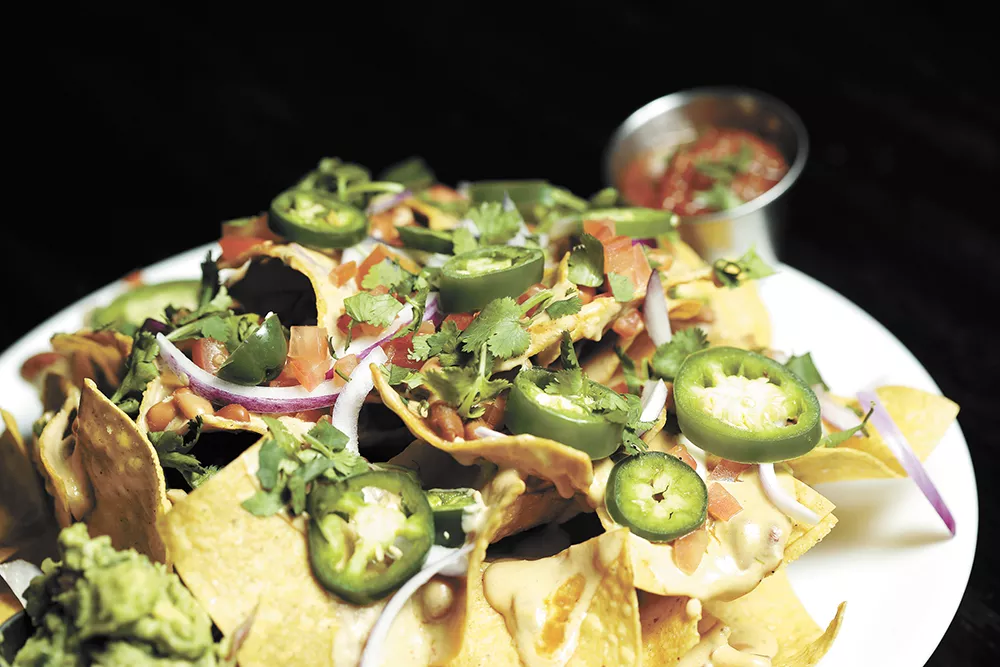 With hoops watching in mind, we hit up six local spots to scout out what they're dishing up on their nacho plates, while making sure there are plenty of TV-viewable seats to catch this year's edition of March Madness. Grab a seat, a pint and these tasty snacks and settle in.
Cascadia Public House
6314 N. Ash St.
What we got: Cashew Queso Nachos, $14
Calling all vegans and vegetarians: Cascadia hasn't forgotten fellow herbivores as we head into March Madness, providing a complete and separate plant-based menu chock full of game day favorites. Follow the "seat yourself" sign and set up camp wherever you please. With TVs located within eyesight of every table in the dining room and bar, there isn't a bad seat in the place to chow down on a mountain of nachos and watch some basketball. Served with house salsa and guacamole, Cascadia tops De Leon's corn tortilla chips with pinto beans and fresh tomatoes, onions and jalapenos, offering a contrasting fresh crunch to balance the salty, gooey goodness of their house-made cashew queso. How they get that cheesy flavor from a bunch of nuts, I'll never know, but with all the classic nacho flavors you can't help but walk away satisfied. (MACIE WHITE)
Outlaw BBQ & Catering Market
4427 W. Wellesley Ave.
What we got: Outlaw Nachos, $16/regular; $12/small
While the focus at Outlaw is on food more than sports, there are plenty of TVs within eyeshot of either the large tables in the dining area or stools in the bar to make this a fine place to catch some college hoops. And the Outlaw Nachos offer some flavors you won't find anywhere else. The first time I ordered them, I had no idea I was going to get basically a baking sheet covered in chips and cheese and a barbecue-focused array of toppings including red onion, jalapenos, barbecue sauce and your choice of pulled pork, smoked turkey or beef brisket ($3 extra on that one). Outlaw doesn't hold back on the meat, and the blend of cheese and barbecue sauce make these some of the best nachos in the region. (DAN NAILEN)
Sweet Lou's
601 E. Front Ave., Coeur d'Alene
What we got: Selkirk Nachos, $15
Take the kids with you, go solo or hook up with friends to watch the game at Coeur d'Alene's Sweet Lou's, which also has a Ponderay location. Settle in front of one of 22 televisions, have an adult beverage — half of their 32 taps are reserved for local beers — and make some room for when the Selkirk Nachos arrive. This is a generous platter of soft, white corn tortilla chips fried in-house and topped with smoked pulled pork, cheddar and jack cheese, tomatoes, onions, jalapenos, sour cream and refried beans (add $2 for guacamole, though these don't need it). And, if the Zags make it far, says Sweet Lou's Chad Foust, look for a big watch party in Coeur d'Alene with K102 radio. (CARRIE SCOZZARO)
The Swinging Doors
1018 W. Francis Ave.
What we got: Doors Nachos, $15
There are few better places to take in March Madness than the Swinging Doors, the North Spokane institution that always seems to be full with sports fans, no matter what the season. They have more than 50 TVs tucked in every nook of the place, and on a recent Friday I hunkered down with a plate of their nachos. The good news: The massive plate of house-made tortilla chips is enough to carry you through multiple games, and they come loaded with layers of ground beef, refried beans, tomatoes, olives, jalapenos, cilantro and sour cream. The bad news: My shredded cheddar cheese was only melted in spots, so I missed out on the gooey, stringy goodness I so love in nachos, and the salsa tasted straight outta New Jersey — way too mild. (DN)
24 Taps Burgers & Brews
825 W. Riverside Ave.
What we got: Nachos, $15
How to make your nachos stand out? Throw a light dusting of cinnamon on the tortilla chips. That's how they do it at 24 Taps in downtown Spokane. Think of it as an added flavor, rather than a sweetener, to your veritable mountain of nachos, slathered in cheese, taco meat, pico, sour cream and sauteed jalapenos. It's hard to go wrong here if you're also looking to catch a game and a couple beers. (QUINN WELSCH)
True Legends Grill
1803 N. Harvard Rd., Liberty Lake
What we got: Legends Nachos, $11
Thicker is definitely better, at least when it comes to the house-fried chips underneath the mound of meaty, cheesy goodness you get at True Legends Grill. Try the barbacoa chicken nachos — beef and chili are your other options — with chicken cooked in peppers and shredded, then smothered in pepper jack and cheddar, and accompanied by olives, tomatoes, green onion and a side each of sour cream and house-made salsa. A small order ($11) is plenty for two, but get the large ($16) in case the game goes into overtime (or you make friends, which is easy to do at this Liberty Lake watering hole and eatery). Although they have more than 20 large TVs throughout, the real draw on game night is the 230-inch big screen. So yeah, go bigger and thicker at True Legends. (CS)
De Leon's Taco & Bar
10208 N. Division St.
What we got: Nachos with steak, $10
I can't definitively say if De Leon's has the best nachos in the Inland Northwest because I haven't tried all of them. What I can say is I'll be back for more. It's all about portion distribution, people. Most bites miraculously included all of the ingredients: guac, refried beans, cheese, steak (or chicken), sour cream, pico and De Leon's house-made tortilla chips. That's more than I can say for a lot of nachos in town. The only way to top it off was with highly potent marg and a Taco Tuesday special. (QW) ♦
click to enlarge
MORE TO TRY
Andy's Bar, 1401 W. First Ave.
Backyard Public House, 1811 W. Broadway Ave.
Black Diamond, 9614 W. Sprague Ave.
The Onion, 7522 N. Division St.; 302 W. Riverside Ave.
No-Li Brewhouse Pub, 1003 E. Trent Ave.
Post Street Ale House, 1 N. Post St.
The Ref, 14208 E. Sprague Ave.
Rock City Grill, 2911 E. 57th Ave.
Spike's Phillys & More, 718 E. Francis Ave.
Union Tavern, 1914 W. Sprague Ave.
The Viking, 1221 N. Stevens St.
[ad_2]

Source link Sports